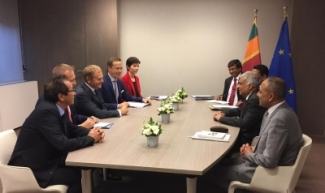 Prime Minister Ranil Wickremesinghes's dedication and sacrifice to convert Sri Lanka into a democratic state which is dedicated to Good Governance is highly appreciated by the European Council, said President of the European Union Donald Tusk.
Meeting with the visiting Sri Lankan delegation led by PM Wickremesinghe on Monday (17th Oct.) at the EU headquarters in Brussels, he assured his fullest cooperation towards Sri Lanka as a special consideration to get GSP Plus back.
According to him, PM Wickremesinghe has stated about a unity government at several elections and today it has become an exemplary to the whole region.
Further commending on the honesty, determination, and the sacrifice made by Premier Wickremesinghe to establish political stability in Sri Lanka under the leadership of President Maithripala Sirisena, he added that Sri Lanka is very near to GSP Plus relief with the current political, and social reforms, taking place in the country.
Prime Minister Wickremesinghe expressing his gratitude to the European community for supporting Sri Lanka including GSP Plus relief, extended an invitation to Mr. Tusk from President Sirisena to visit Sri Lanka. Accepting the invitation, Mr. Tusk said that he would visit Sri Lanka next year.
He further requested the Premier to pay more attention towards illegal migrants from Sri Lanka to Europe. In his response to the President Tusk, PM Wickremesinghe assured that this issue will receive a solution when the development process is continued. A Task Force with the assistance of the Law and Order, Resettlement, and Justice Ministries, Department of Immigration and Emigration, and EU will also be established.
This would be the first time that a Sri Lankan political leader held discussions with a President of the European Union.
Courtesy: www.news.lk