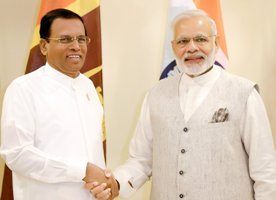 President Maithripala Sirisena who is in India to participate in the BRICS Outreach Summit held bilateral discussion with the Indian Premier Narendra Modi at the Taj Exotica Hotel in Goa on Oct. 16.
Prime Minister Modi who warmly welcomed President Sirisena stated that the President's participation at the BRICS Outreach Summit is a great strength for him, for India and also for the entire BIMSTEC region.
He further stated that Sri Lanka has a significant role in the South Asian Region at the moment. "I invite Sri Lanka for a deep relationship beyond the agreements and regulations", he said.
President Sirisena thanked the Indian Premier for his invitation to the BRICS Outreach Summit. "This strengthens the long friendship between Sri Lanka and India", he stated. He also recalled India's assistance, provided to Sri Lanka whenever the country has been in difficult situations.
Courtesy: www.news.lk