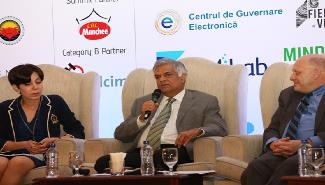 Sri Lankans will have to innovate to be more competitive in the global market, Prime Minister Ranil Wickremesinghe said.
Speaking at the Sri Lanka's First National Summit on Foresight and Innovation titled '2030NOW: Foresight and Innovation for Sustainable Human Development' organized by UNDP at Water's Edge yesterday he said that innovation can take Sri Lanka to the next level from the current middle income country. "Sri Lanka is situated in one of the fastest growing regions in the world in the next few years and firstly it would give agriculture a lot of scope since there will be more 'mouths' to feed."
"In addition Sri Lanka can also innovate to exploit from the global shipping route which was done by our ancestors". The PM also said that in a few years' time the Asian region will witness the highest number of air travels mainly powered by China and India and this is another area that should be looked at closely to benefit Sri Lanka.
The Prime Minister said Sri Lanka is blessed with a very highly educated society thanks to high level of education and here again their knowledge could be exploited to better use. "We must look at how to be more competitive in a sustainable manner."
The Premier said that Sri Lanka also needs more exports and to get more benefits from that, the country is looking at more economic agreements by way of FTA's. "These are mainly focused with countries like, USA, China, Korea, and Japan and in the East with Singapore Malaysia and Indonesia."
He said that they are planning to convert Hambantota to an area supporting industries while focus on Trincomalee would be to use its natural harbour for maritime purposes.
He said Sri Lanka has to catch up on several lost opportunities and with a national government in place and reconsolidation now it's the time for that to look at doubling our income and also attain a high standard of living. (CDN)