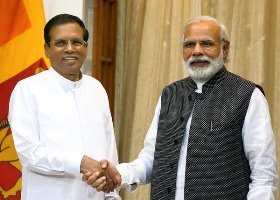 Modi assures assistance for reconciliation


Setting up of Allopathic Medicine Investment Zone in Sri Lanka was discussed
President Maithripala Sirisena who is on an official visit to India had bilateral discussions with the Indian Prime Minister Narendra Modi, today (May 13) in Hyderabad Home New Delhi.
During the discussion, the Indian Premier assured to give every support to Sri Lanka to make the reconciliation program successful.
They also discussed about establishing of an Allopathic Medicine Investment Zone in Sri Lanka, with assistance of the Indian Government. The attention was also paid on enhancing of the economic, commercial and cultural relations between the two countries.
An idea of a common economic zone was also taken into discussion.
"President Sirisena's visit for the Simhasth Kumbh in Ujjain was very significant as it showed the deep civilizational ties between India and Sri Lanka", said the Indian Premier.
The two leaders discussed all issues of bilateral interest, in particular the problems being faced by fishermen and the current status of various economic projects being implemented by India and efforts to further increase trade and investment.
In this context, both the leaders appreciated the meetings of the India-Sri Lanka Joint Commission led by two foreign ministers, which had met after a gap of three years.
This was the 6th meeting of President Maithripala Sirisena with the Indian Premier, during a short span of 15 months.
President Sirisena selected India for his first state visit after electing as the President of Sri Lanka. He had discussions with Prime Minister Modi during his visit to New Delhi as well as Prime Minister Modi's visit to Sri Lanka, during the sidelines of the international forums such as the General Assembly of United Nations and the CHOGM Summit in Malta as well as at the Environmental summit held in France.
Thus, the leaders of Sri Lanka and India have become the two heads of states met the largest numbers of times during a period of 15 months. Consequently, the two heads of states have set an example of who held periodical bilateral discussions for most number of times.
After the bilateral discussion, the Indian Prime Minister hosted a dinner in honor of President Sirisena.