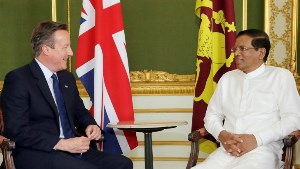 British Prime Minister David Cameron commended the commitment of the Sri Lankan Government for corruption free good governance.
He made these remarks when he met President Maithripala Sirisena for bilateral discussions on the sidelines of the Anti Corruption Summit, being held in London today (May 12).
At the venue British Prime Minister, David Cameron warmly welcomed the President and later held bilateral discussions.
"The Anti-Corruption Summit being held in London with the aim of creating a world free of corruption", the British Prime Minister said, adding that the presence of President Sirisena for the summit is very significant as a leader who implement many initiatives to eliminate corruption from the country.