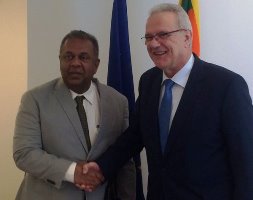 The EU Commissioner for International Cooperation and Development Neven Mimica arrived in Sri Lanka today, 15th March 2016, to re-affirm EU support for the Government of Sri Lanka, review ongoing development programmes and to discuss ways and means of further enhancing Sri Lanka – EU bilateral cooperation. This is the first visit of the EU Commissioner for International Cooperation and Development to Sri Lanka and is the first visit by a high-level EU representative since the current Government assumed office.
The EU Commissioner will meet Prime Minister Ranil Wickremasinghe and other senior ministers during his visit.
Following the election of the new Government in 2015, Sri Lanka and EU are engaged in a number of initiatives aimed to complement the ongoing peace and reconciliation process while also strengthening economic partnership.
Today, Commissioner Mimca met with Foreign Minister Mangala Samaraweera and discussed a wide range of issues, including possible lifting of IUU fishing ban and restoration of GSP+, furthering the continued positive engagement between the two parties.
Foreign Minister Samaraweera also participated at the formal opening of the new premises of the Office of the EU Delegation today.
Commissioner Mimica will conclude his official visit on 17th March, 2016 following high level discussions and signing of two financing agreements.

Read more

Ministry of Foreign Affairs
Colombo


15 March 2016