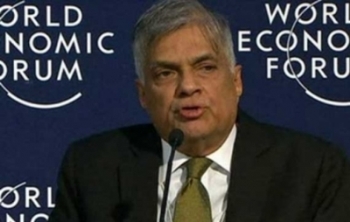 Over 2,000 world leaders and economic specialists, including Sri Lankan Prime Minister Ranil Wickremasinghe participated at the inaugural ceremony of the World Economic Forum at Davos in Switzerland on Wednesday (20).
It is the first time in history that a Sri Lankan leader attended the World Economic Forum on a special invitation.
Prime Minister Wickremesinghe also held discussions with the Heads of many large scale trading companies.Special attention were drawn to the investment opportunities in Sri Lanka during these discussions between the Prime Minister and Heads of global companies. During these meetings, they expressed their willingness to bring in large scale investments to Sri Lanka within this year.
On the sideline, the Prime Minister also held bilateral talks with Sweden Prime Minister Stefan Löfven and Turkish Prime Minister Ahmet Davutoglu.
The Prime Minister addressing a press conference at the World Economic Forum last evening said, that the Sri Lankan government has embarked on a great mission towards achieving reconciliation. He said, "We have started off on a great experiment. Firstly on reconciliation of bringing the country together where people had grown apart as a result of a long drawn off war of nearly. 30 years and on re-establishing constitutional democracy and also having a framework of agreement on the major economic and social problems." The Prime Minsiter further emphasized that there will be a national policy in place and whoever governs will not change and these are the challenges that the government has to face.
Strategic Development and International Trade Minister Malik Samarawickrema, Central Bank Governor Arjun Nahendran, Sri Lankan Ambassodor in Switzerland Ravinatha Aryasinha, Prime Minister's Secretary Saman Ekanayake, Prime Minister's Additional Secretary Saman Athaudahetti and Personal Assistant to the Prime Minister Sandra Perera also participated.