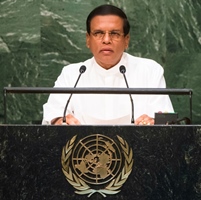 President Maithripala Sirisena said Sri Lanka will act with determination as a pioneer of eco-sensitive civilization that is emerging in the 21st century to achieve the Post-2015 Sustainable Development Agenda and the Sustainable Development Goals and targets that have been adopted by the United Nations General Assembly (UNGA).
Addressing the UNGA Session on Sustainable Development in New York today (September 27), he said sustainable development encapsulates the equilibrium between social and economic development and environmental protection.
President Sirisena assured the world leaders that the Government of Sri Lanka anticipates achieving these goals fully by 2030.
"In that respect, we will work towards the provision of basic needs of the people, progressive alleviation of poverty, elimination of all forms of discrimination and inequalities, and establish a society based on social justice and human security," the President pledged.