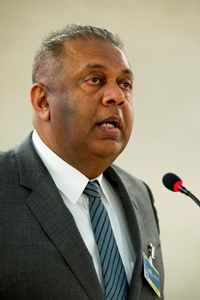 Today we have achieved a path-breaking success in the UN Human Rights Council in Geneva at the current 30th Session.
For the last several years, Sri Lanka was repeatedly humiliated by the international community with Resolutions that censured the conduct of our country. Successive resolutions since 2012, adopted by divisive and acrimonious voting, resulted in repeated defeats and isolation for Sri Lanka.
Although the Government at the time claimed victory through a Resolution in the Human Rights Council in May 2009, that was hardly a victory for the people of Sri Lanka, as that effort failed to achieve consensus in the Council. The Resolution, which was adopted by a vote, antagonised a large number of members of the Council, paving the way for the series of Resolutions that followed in 2012, 2013 and 2014 that was an affront to the people of my country and brought disrepute to Sri Lanka.
It was undoubtedly a period of embarrassmentand dishonour for the peace-loving, democratically oriented people of Sri Lanka who, for decades, had received acclaim among the United Nations community, as consensus builders, moderates and friends with all.
After almost three decades of conflict ended in 2009, the peace dividend that the people so richly deserved became illusive with each passing day, as impunity reigned, freedom was suppressed and democratic governance was curtailed. The desire of the people of our country to live in peace and harmony was denied to them. The opportunity to unite communities through reconciliation and build a nation that celebrates the rich diversity of our country was squandered away through action that sought to polarise communities even further and isolate the country internationally.
Allegations of violations of human rights remained unaddressed and kept on mounting in the years following 2009. The nation was faced with international strictures and an investigation. The people of our country were deprived of the opportunity to gain the best knowledge and expertise from the international community, obtain access to markets, attract investment and benefit from economic advancement.