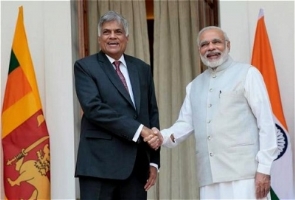 India offered Sri Lanka full support to strengthen connectivity between the two countries to deepen human and economic links that will benefit all sections of the two societies when Sri Lankan Prime Minister Ranil Wickremesinghe and his Indian counterpart Narendra Modi held talks in New Delhi Tuesday. (15)
Indian PM issuing a statement after the meeting that took place this morning at the Hyderabad House said Sri Lanka's progress is important for the two countries, South Asia and the maritime region.
Both sides inked four agreements, including renewal of a MoU for Indian grant assistance for implementation of Small Development Projects and one for the supply of medical equipment to the District General Hospital at Vavuniya.
Welcoming the significant developments in bilateral relations since March, including the currency swap arrangement, Mr. Modi expressed hope that progress on key bilateral initiatives and projects will gather speed now.

The two leaders agreed that both countries want the bilateral trade to grow and become more balanced for Sri Lanka and discussed how to achieve those goals in a more open and competitive Indian market, including through bilateral arrangements for trade and investments.

Indian Prime Minister also sought his Sri Lankan counterpart's support for Indian investors, who are keen to participate in Sri Lanka's economic development, especially in infrastructure, energy and transport sectors.

He assured Prime Minister Wickremesinghe of continuing commitment to the development partnership - in infrastructure, railways, energy, community development projects, agriculture, capacity building, science and technology, space and civil nuclear field.

Recognizing the closely aligned security interests and the need to remain sensitive to each other's concerns, both leaders reaffirmed their commitment to deepen defense and security cooperation.

The two countries agreed to intensify cooperation in combating terrorism and work together for security and stability in the maritime neighborhood.

Sri Lanka is our largest partner in defense training program and we will continue to expand our cooperation in this area, Prime Minister Modi said.

The two Prime Ministers discussed the nagging fishermen issue and agreed that fishermen's associations on both sides should continue their efforts to find a solution.

Indian PM emphasizing that it should be seen as a humanitarian issue that affects livelihoods informed the Sri Lankan PM of the steps his government is taking to encourage Indian fishermen to take up deep sea fishing.

Noting that India and Sri Lanka have a huge stake in each others success, and in stability and development in the region, the Indian leader commended the Government of Sri Lanka for taking a number of significant steps in recent time.

Mr. Modi expressed confidence that with the wisdom and will of the leadership in Sri Lanka and the support of the people, Sri Lanka will achieve genuine reconciliation and development, so that all Sri Lankans, including the Sri Lankan Tamil community, can live a life of equality, justice, peace and dignity in a united Sri Lanka."

As a close neighbor and friend, we wish Sri Lanka every success; rejoice in your progress; and, assure you of India,s unwavering support, he said.
Courtesy: www.news.lk