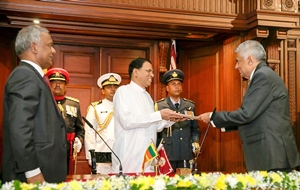 The leader of the United National Party (UNP) Ranil Wickremesinghe was sworn in as the Prime Minister of Sri Lanka before President Maithripala Sirisena at the Presidential Secretariat today (21).
After Mr. Wickremesinghe took oaths as the new PM, a Memorandum of Understanding (MoU) was signed between the Sri Lanka Freedom Party (SLFP) and the United National Party (UNP), to work together in the next Parliament.
The MoU was signed by UNP General Secretary Kabir Hashim and SLFP Acting General Secretary Duminda Dissanayake.
Mr. Ranil Wickremesinghe who contested from the Colombo District in the General Election consolidated his victory by polling a record 500,506 votes. It is the highest number of votes polled by a candidate in Sri Lanka's election history.
Mr. Ranil Wickremesinghe, has served as the Prime Minister of Sri Lanka since 9 January 2015. He became the Leader of the United National Party in 1994 and he was a Member of Parliament for Colombo District since 1977. He is also the leader of the United National Front for Good Governance.
Mr.Wickremesinghe also previously served as Prime Minister from 7 May 1993 to 19 August 1994 and 9 December 2001 to 6 April 2004. He was appointed party leader in November 1994 following the assassination of late Gamini Dissanayake in 1994 Presidential Election. In 8 January 2015, Wickremesinghe was appointed as Prime Minister by President Sirisena after winning the 2015 Presidential Election.
Mr.Wickremesinghe was educated at Royal College, Colombo where he was a classmate and friend of Anura Bandaranaike, son of then Prime Minister Solomon Bandaranaike and Dinesh Gunawardena, son of socialist leader Philip Gunawardena. Wickremasinghe entered the Faculty of Law at the University of Ceylon, Colombo campus (now University of Colombo). After graduation, he completed the law exams at the Sri Lanka Law College and took oaths as an advocate in 1972.
Courtesy: www.priu.gov.lk