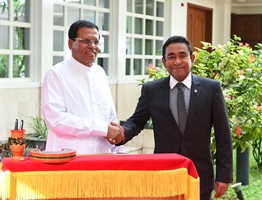 President Maithripala Sirisena returned to Sri Lanka on Monday (27th July) afternoon concluding his State Visit to Maldives for the 50th Anniversary of Independence.
President Sirisena was accorded a ceremonial welcome in Maldives. He attended the official function to commemorate the Golden Jubilee of Independence and the special reception held on the occasion on Sunday 26th July.
Earlier on Sunday, President Maithripala Sirisena paid a courtesy call on President Abdulla Yameen Abdul Gayoom, during which he conveyed appreciation for the honour accorded to grace this special occasion. President Sirisena conveyed the felicitations and best wishes of the Government and people of Sri Lanka to the Government and people of Maldives. Emphasizing the need to further strengthen the relationship which reached the milestone of 50 years of formal diplomatic engagement, the two leaders briefly discussed the various initiatives under way on the bilateral front particularly in relation to the health, education and human resource development sectors. The Sri Lankan President assured continued support for the socio-economic development of Maldives. The discussions placed particular emphasis on strengthening the economic engagement between the two countries including in investments and tourism.
Having discussed various aspects of regional and international issues of concern, President Sirisena articulated Sri Lanka's approach of working with the international community adhering to the objectives and principles of the United Nations, Commonwealth and SAARC.
President Sirisena also emphasized the need to invigorate the economic development in the region with the sustainable use of natural resources, use of innovation and technology to be the catalyst in the region's development. He also outlined some of the future priorities for Sri Lanka such as food security and sustainable domestic food production, eradicating the drug menace including narcotics smuggling and environmental protection and conservation. He emphasized the need for regional cooperation in these areas as well.
Minister of Finance Ravi Karunanayake and senior officials as well the Actg. High Commissioner of Sri Lanka in Maldives (Mrs) W.A.T. Gunatillake accompanied the President for the meetings and events in Maldives.

Ministry of Foreign Affairs
Colombo

27 July 2015