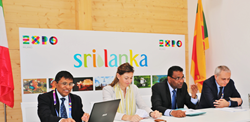 Speaking at a Press Conference at the Sri Lankan Pavilion of Expo Milano 2015, Mr. Bandula Egodage, Chairman - Sri Lanka Export Development Board called Sri Lanka an 'Ethical Sourcing Destination'. His claim was strongly endorsed by Ms. Ghizzoni of International Trade Center (ITC) Geneva and Dr. Doninetti of Italian Foreign Trade Association (AICE).
A press conference themed 'Sri Lanka, ethical sourcing destination' was successfully completed on May 22, 2015 at Sri Lanka Pavilion of Expo Milano - the World Exposition, under the chair of Mr. Bandula Egodage – Chairman & Chief Executive Sri Lanka Export Development Board with the head table attendance of Ms. Ludovica Ghizzoni – Advisor ITC Geneva, Dr. David Doninetti – Secretary General AICE and Mr. Dammika Jayawardane – Pavilion Director Sri Lanka.
The press conference was facilitated by the Media Center of Expo Milano 2015. International Media, Commissioner Generals & Pavilion Directors of Japan, Thailand, Malaysia, Slovakia, etc. attended it with great interest.


Expo Milano 2015 is organized under the theme, "Feeding the Planet – Energy for Life". Sri Lanka, as an ethical sourcing destination, is well aligned with this global theme. Since the inauguration of the Fair, over 28000 people have, reportedly, visited the Sri Lankan Pavilion situated in the Fruits and Legumes Cluster.