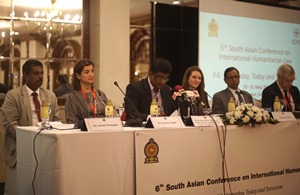 The sixth annual South Asian Regional Conference on international humanitarian law (IHL) jointly organized by the Government of Sri Lanka and the International Committee of the Red Cross (ICRC), is being held in Colombo from 19-21 May 2015.
Welcoming the opportunity of hosting the Conference in Colombo for the first time, Deputy Foreign Minister Ajith P Perera, Chief Guest at the opening of the Conference, remarked that the deliberations of this event would be important to ensure that the Humanitarian Law regime keeps pace with the evolving nature of armed conflict. Thanking ICRC for the remarkable work that it has been carrying out in Sri Lanka for 25 years, the Deputy Minister commented that the Government looks forward to cooperating even more closely with the ICRC in future, to address the humanitarian needs of the people in the country.
Approximately 40 nominated individuals representing key ministries, parliaments, the judiciary and the armed forces in Afghanistan, Bangladesh, Bhutan, Iran, the Maldives, Nepal and Pakistan are participating in the conference. Sri Lanka will be represented by officials from the Ministry of Foreign Affairs, the Attorney General's department, the Legal Draftsman's department and the Sri Lanka Army. Experts in IHL from the region and the ICRC will be resource persons for the event where participants will share their perspectives on IHL and work together towards heightened recognition of and compliance with this body of law.
"Over the years, international humanitarian law had to respond to the evolving nature of armed conflicts", said Cherine Pollini, the head of the delegation of the ICRC in Sri Lanka. "The theme of the conference, which is IHL: Yesterday, Today and Tomorrow, reflects these challenges and developments, some of which will be deliberated on at the forum", she added.
The first South Asian Conference on international humanitarian law was co- organized by the ICRC and the Government of Nepal in 2009. Since then the ICRC has organized four more conferences with governments in the region: Bangladesh (2010), Maldives (2011), Bhutan (2012) and Nepal (2014).
The ICRC promotes respect for international humanitarian law on the basis of its internationally recognized mandate under the Geneva Conventions of 1949 and their Additional Protocols.
Ministry of Foreign Affairs