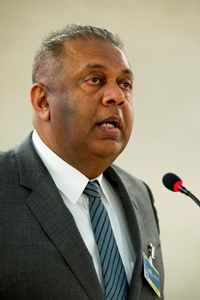 Foreign Minister Mangala Samaraweera introduced amendments in Parliament today to the United Nations Regulations 1 and 2 of 2012 promulgated under the United Nations Act number 45 of 1968, to bring them into line with international obligations and strengthen the domestic legislative framework.
The UN Regulations of 2012, were enacted by Sri Lanka, in keeping with its international obligations to comply with UN Security Council resolutions 1373 and 1267, that set out measures and strategies to combat international terrorism. The proposed amendments to the UN Regulations that have been gazetted in Extraordinary Gazette No. 1892/37 of 11 December 2014, tabled in Parliament today by Foreign Minister Samaraweera are aimed at strengthening Sri Lanka's domestic legislative framework to comply with UN Security Council Resolutions on terrorist financing and money laundering and will strengthen the capacity of the law enforcement and judicial authorities responsible for investigating money laundering and terrorist financing.
The Minister pointed out that the government was presenting these amendments, at a time when Sri Lanka would mark the 60th anniversary of her membership in the United Nations that also coincided with the 70th anniversary of the founding of the world body. During his address in Parliament, Minister Samaraweera also highlighted Sri Lanka's contribution to the UN system, including its norm setting process.
The full Statement of the Minister is below.
Ministry of Foreign Affairs
Colombo
18th March 2015