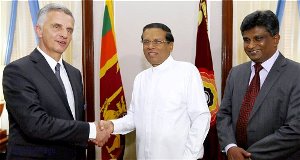 Switzerland is willing to open a new chapter in bilateral relations with Sri Lanka and ready to extend its full support for a national reconciliation programme Visiting Head of the Federal Department of Foreign Affairs of the Swiss Confederation, Federal Councilor Didier Burkhalter told President Maithripala Sirisena.
The visiting Head of the Federal Department of Foreign Affairs made this pledge Tuesday (March 17) when he met Sri Lankan President Maithripala Sirisena at the Presidential Secretariat.
Mr Burkhalter said that the Swiss government is very happy with the measures taken by Sri Lankan government so far to build up national reconciliation and empower democracy in Sri Lanka.
President Sirisena appreciated the Swiss government's role as a neutral state in helping peace moves throughout the world.
Mr. Burkhalter has also held talks with Prime Minister Ranil Wickremesinghe, Foreign Minister Mangala Samaraweera and representatives of the government and of the Tamil population in the Sri Lankan capital Colombo.
Mr Burkhalter expressed his appreciation for the peaceful elections in Sri Lanka and for the reforms the new government has introduced.
Open and comprehensive dialogue between all parties concerned was an essential prerequisite for building trust, said Mr Burkhalter. He also welcomed the Sri Lankan government's willingness to work more closely with the international community and the UN to investigate and punish human rights violations.
Concerning bilateral relations, Mr Burkhalter said that a "new era" could be starting between Switzerland and Sri Lanka, in terms of economic ties and cooperation in other areas.
At today's meeting with Prime Minister Wickremesinghe, Mr Burkhalter discussed options for expanding trade and economic relations.
The trade volume between Switzerland and Sri Lanka is currently around CHF 300 million per year. Many Swiss companies are present in Sri Lanka, and Mr Burkhalter met representatives from several of them while in Colombo today.
Mr Burkhalter also met Tamil National Alliance (TNA) seniors R. Sampathan, and MP M.A. Sumanthiran and discussed the reconciliation process in Sri Lanka.
The Swiss Minister will visit the Akkarai project village in Jaffna, tomorrow. Switzerland supported its reconstruction following the civil war, as part of the Swiss Agency for Development and Cooperation's (SDC) humanitarian reconstruction programme. In total, Switzerland is helping some 5,000 families to build houses, 20% of them are households headed by women. Thirty-five of the supported families live in the Akkarai project village.
In Jaffna, Mr Burkhalter will also meet the Chief Minister of Northern Province, C.V. Wigneswaran, and the Governor of Northern Province, H.M.G.S. Palihakkara, for talks.
Deputy Minister of Foreign Affairs, Ajith C Perera, Secretary to the President, P B Abeykoon, and Foreign Secretary Chitranganee Wagiswara were also present on this occasion.
Courtesy: www.priu.gov.lk