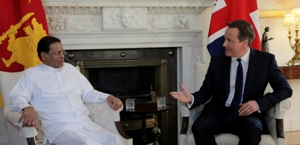 The United Kingdom is ready to offer its unwavering support to Sri Lanka in the country's efforts to achieving future development goals, British Prime Minister David Cameron said during his meeting with President Maithripala Sirisena at No. 10 Downing Street yesterday.
During the discussion President Sirisena apprised the British Prime Minister of the steps initiated by the current government to ensure freedom and rights of every Sri Lankan including that of North and East. He also briefed the Prime Minister on the progress of the returning land to the civilians previously utilized for security purposes and the Task Force appointed to build harmony and reconciliation among different ethnicities. President while noting that the report of the said Task Force is scheduled to be released by July this year said steps have been taken to safeguard the independence of judiciary.
Prime Minister Cameron while congratulating President Sirisena on his election victory commended Sri Lanka's journey on its new path to progress. He further expressed his satisfaction over the new atmosphere prevail in North and East under the guidance of President Sirisena.
The two leaders also discussed President Sirisena's clear plans to build lasting reconciliation across Sri Lanka, both through supporting the ongoing UN investigation and by establishing an internal mechanism to address issues from Sri Lanka's past. The PM welcomed the steps the President had taken so far and his commitment to helping Sri Lanka to realise its enormous potential. He reiterated that meaningful engagement with the ongoing UN process ahead of its report in September is central to the UK's continued support for Sri Lanka.
The PM also welcomed the growing trade relationship between the UK and Sri Lanka and looked ahead to the visit of the Lord Mayor of London, Boris Johnson with a business delegation in May as an opportunity to grow this further.
Following discussions with Prime Minister Cameron President Sirisena held discussions with the All Party Parliamentary Group for Sri Lanka headed by Lord Naseby at the British Parliament.
President Sirisena as the Chair-in-Office of the 53-member Commonwealth attended the Commonwealth Day Observances held in London Monday.
Her Majesty will host a special luncheon in honour of the Sri Lankan President at the Buckingham Palace today.
Courtesy: www.priu.gov.lk