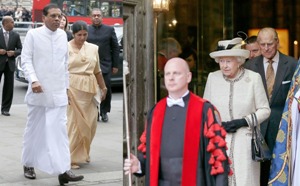 President Maithripala Sirisena as the Chair-in-Office of the Commonwealth and as a special guest attended the Commonwealth Day celebrations held at the Marlborough House, London, the headquarters of the Commonwealth Secretariat, yesterday (9). President Sirisena, Madam Jayanthi Sirisena and Sri Lankan delegation were wormly welcomed there on behalf of the Government of Britain.
Queen Elizebeth, along with the Duke of Edinburgh Prince Phillip, Prince Charles and the Duke and Duchess of Cambridge; Prince Williem and Kate Middleton attended the ceremony along with other members of the Royal family.
The secretary general of the Commonwealth, Kamalesh Sharma and the to be Chair-in-Office of the Commonwealth were also presented at the occasion.
The special mars organized for commonwealth celebration was held at Westminister Abbey Church in London. President Sirisena and Madam Sirisena also participated in the mars.
The official discussions between President Sirisena and British Prime Minister David Cameren will be held this evening (March 10). All party group meeting will also be held following this discussion.
A special dinner which is offered for Sri Lankan President by the Queen will be held tomorrow at Bakingham Palace.
Courtesy: www.priu.gov.lk