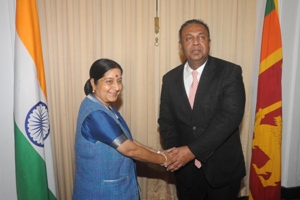 Indian External Affairs Minister, Shrimati Sushma Swaraj paid an official visit to Sri Lanka from 06 to 07 March 2015. This is the first visit to Sri Lanka by Ms. Swaraj in her capacity as Minister of External Affairs.
During her visit, Minister Swaraj met with her Sri Lankan counterpart, Mangala Samaraweera and held an extensive and cordial discussion covering a wide range of areas relating to bilateral cooperation.
External Affairs Minister Swaraj and Foreign Minister Samaraweera also reviewed arrangements relating to the forthcoming official visit to Sri Lanka by Prime Minister of India, Shri Narendra Modi next week.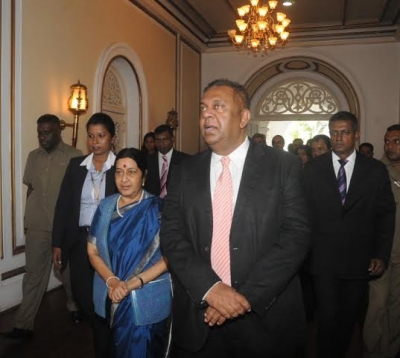 The two Ministers agreed to convene the Ninth Session of the Joint Commission, headed by them in Colombo at an early date. The successful completion of the Commerce Secretary level talks held on 04 March 2015 in Colombo was also noted. During the visit, External Affairs Minister Smt. Swaraj called on President Mathripala Sirisena and was hosted to a luncheon by Prime Minister Ranil Wickremesinghe. Foreign Minister Samaraweera hosted a welcome dinner in honour of the visiting Minister and her delegation yesterday.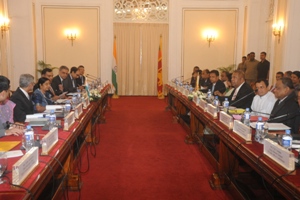 Associated with the Foreign Minister Samaraweera were Foreign Secretary Mrs. Chitranganee Wagiswara and senior officials of key line Ministries as well as officials of the Ministry of Foreign Affairs.
External Affairs Minister Swaraj had visited Sri Lanka previously as Minister of Telecommunications and as Leader of the Opposition of the Lok Sabha.

Ministry of Foreign Affairs
Colombo

07 March 2015