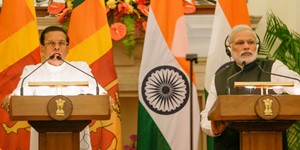 Sri Lanka and India signed four agreements/MoU during President Maithripala Sirisena's state visit to India, Feb. 15-18, 2015.
Mr. Patali Champika Ranawaka, Minister of Power & Energy on behalf of Sri Lanka and Mr. Ratan Kumar Sinha, Secretary, Department of Atomic Energy for India signed an agreement on Cooperation in the Peaceful Uses of Nuclear Energy.
The agreement would facilitate cooperation in the transfer and exchange of knowledge and expertise, sharing of resources, capacity building and training of personnel in peaceful uses of nuclear energy including use of radioisotopes, nuclear safety, radiation safety, nuclear security, radioactive waste management and nuclear and radiological disaster mitigation and environmental protection.
Sri Lankan High Commissioner in New Delhi Mr. Sudharshan Seneviratne and Secretary, Ministry of Culture for India Mr. Ravindra Singh inked an agreement for a Programme of Cultural Cooperation between Sri Lanka and India for the years 2015-18. The Programme of Cultural Cooperation for 2015-18 seeks to enhance the level of cooperation in a wide variety of fields such as performing arts, visual arts, libraries, museums, archives & cultural documentation, archaeology, handicrafts, publications and professional exchanges.
Mrs. Chitranganee Wagiswara Secretary Ministry of External Affairs on behalf of Sri Lanka and Dr. S. Jaishankar Foreign Secretary on behalf of India inked a MoU on the establishment of Nalanda University.
Mr. Sudharshan Seneviratne, High Commissioner of Sri Lanka in New Delhi and Mr. Ashish Bahuguna, Secretary, Department of Agriculture & Cooperation signed a Work-Plan 2014-2015-MoU on Cooperation in the field of Agriculture between India and Sri Lanka.
The Work Plan would facilitate bilateral cooperation in Agro Processing, agricultural extension, horticulture, agricultural machinery, training in farm mechanization, livestock diseases, etc. between relevant institutes and organizations from both countries.
Courtesy: www.president.gov.lk