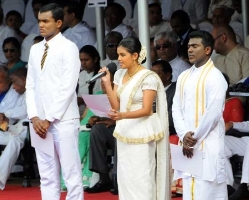 Sri Lankan Government on Wednesday, February 4th 2015, six years after the end of the war, marked the 67th Independence Day with a special Statement of Peace at the ceremony, in a bid to push forward the reconciliation effort,
Immediately after President Maithripala Sirisena's Address to the Nation, a special peace pledge was delivered in all three languages at the 67th Independence Day ceremony. This was in line with a key recommendation by the Lessons Learnt and Reconciliation Commission (LLRC) in its 2011 report.
The full text of the declaration is as follows:
"Today our beloved nation is at a moment of unprecedented opportunity. Terrorism and violence have ended.
"The time and peace required for healing and building sustainable peace and security for all, is upon us. It is now for us to seize this opportunity to ensure the fruits of democracy and citizenship can be equitably enjoyed by all.
"As we commemorate the 67th Independence Day of our nation today, we pay our respects to all the citizens of this country, of all ethnicities and religions, who lost their lives due to the tragic conflict that affected this land for over three decades, and for all the victims of violence since Independence.
"On this solemn occasion we pledge to adopt consensual approaches through democratic means, to advance national interest, national reconciliation, justice and equality for all citizens. We shall do this in a spirit of tolerance, accommodation and compromise and uphold the unity and territorial integrity of the nation for the progress and development of our pluralistic society.
"We pledge to protect freedom and democracy, promote amity, cooperation between the diverse communities in this country, and at all times strive to walk the path of peace. We pledge our collective commitment to ensure that never again will we allow for this land to be traumatised by the shedding of blood of her citizens."