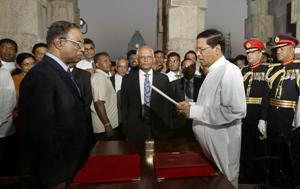 Mr. Maithripala Sirisena was sworn in as the seventh Executive President of the Democratic Socialist Republic of Sri Lanka at Independence Square this evening.
He was sworn in before Justice K J Sripavan of Supreme Court.
United National Party leader Ranil Wickremasinghe was sworn in as the new Prime Minister.
Mr. Sirisena who comes from a rural bakcground joined mainstream politics in 1989 from Polonnaruwa in the North Central Province. He has held several ministries since 1994. He was the general-secretary of the Sri Lanka Freedom Party and was Minister of Health until November 2014 when he announced his candidacy for the 2015 presidential election as the opposition coalition's common candidate.
He had also served as the Minister of Agriculture, Land and Mahaweli Development and also Acting Defence Minister on several occasions.
Mr. Sirisena campaigned on reducing the power of Executive Presidency, giving more strength to Parliament and good governance.
Courtesy: www.priu.gov.lk