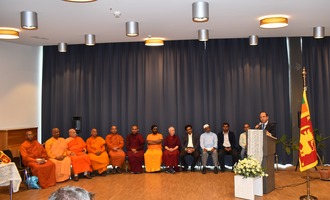 An inter-religious service to pay tribute, to honour the victims of the Easter Sunday attacks in Sri Lanka, and to invoke blessings for the family members of the victims, for speedy recovery of the injured as well as for all Sri Lankans was held on Sunday, 28 April 2019 in Bern, the Capital city of Switzerland. The solemn event was organized by the Consulate General of Sri Lanka in Geneva together with House of Religions, Bern and the Sri Lankan community in Switzerland.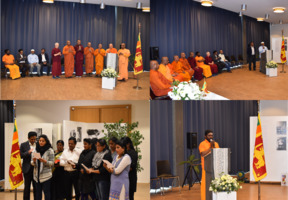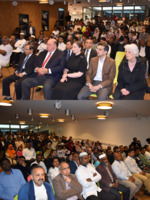 A two minutes' silence was observed by those present at the commencement of the event. Demonstrating unity and solidarity and the strength of multi-ethnic, multi-religious fabric of the Sri Lankan society, leaders representing Catholic, Buddhist, Hindu and Islamic religions participated in the event. Praying for the eternal peace for the departed souls, the religious leaders invoked blessings on the victims and their family members. All religious leaders called for understanding and tolerance among all communities to stand as one nation and prayed for peace and calm to prevail in the motherland.
Speaking at the event, Permanent Representative of Sri Lanka to the United Nations in Geneva and Consul General of Sri Lanka in Switzerland Ambassador A.L.A. Azeez, expressed deepest condolences to the families of the victims while wishing speedy recovery for those injured in the attacks. "Terrorism will never be able to defeat Sri Lanka and its people" stressed Ambassdor Azeez, recalling that during these most horrendous attacks, Sri Lankans have risen above differences, as a community of purpose, united by the values of humanity, and "that was the antithesis of which the terrorists had sought to achieve on the Easter Sunday."
The event concluded with a candle light vigil by the participants praying for the victims, families and all Sri Lankans.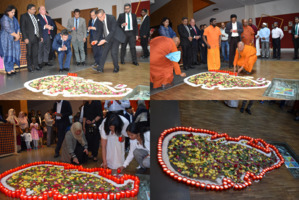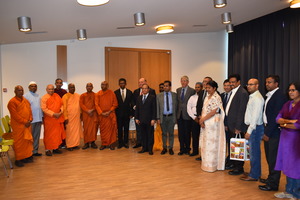 Among the guests who were present were Ambassadors of India and US to Switzerland, Permanent Representative of Bhutan to the United Nations in Geneva, Diplomatic Representatives of the Embassies of Pakistan and Saudi Arabia in Bern as well as Diplomatic Representatives of the Permanent Mission of Nepal to the United Nations in Geneva.
Consulate General of Sri Lanka in Switzerland
Geneva
30 April 2019