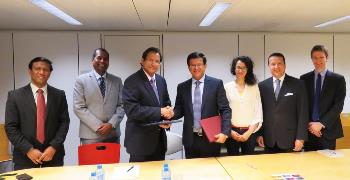 4 July 2016, Geneva, Switzerland - A Framework of Cooperation between the United Nations Institute for Training and Research (UNITAR) and the Group of Fifteen (G-15), a grouping of developing countries focused on South-South cooperation, was signed on 4th July, 2016 in Geneva.

Ambassador Ravinatha Aryasinha, Chairman of the Personal Representatives of the Heads of State and Government of the G-15 and the Permanent Representative of Sri Lanka to the United Nations in Geneva signed the Agreement on behalf of the G-15 while Mr. Nikhil Seth, United Nations Assistant Secretary-General and Executive Director, signed on behalf of UNITAR.


The Agreement intents to further enhance cooperation between the two organisations. Its targeted objectives include, the design and development of technical assistance and capacity building activities for government officials from G-15 member states, the development of a training portfolio that would support continuous learning through the implementation of activities that incorporate the principles of adult learning, the joint publication of knowledge resources such as training workbooks, thematic reports, policy papers, research papers and the provision of scholarships to individuals from G-15 members states to participate in face-to-face and e-learning courses offered by UNITAR in the priority areas determined by the G-15.