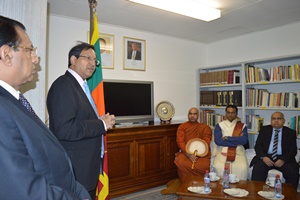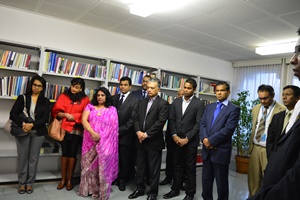 The Permanent Mission of Sri Lanka organized multi- faith religious observances to mark the first Anniversary of the inauguration of Office of H.E. the President Maitripala Sirisena on 8th January 2016 from 8:00- 9:00 a.m. at the Permanent Mission of Sri Lanka in Geneva
Members from the Sri Lankan community, representing Sri Lankan Associations in Geneva and the staff of the Permanent Mission of Sri Lanka attended this event. Multi-religious observances were conducted, invoking blessings on President Sirisena, Prime Minister Ranil Wickremesinghe, the Government and the people of Sri Lanka. Two minutes silence was observed in honor of all those who sacrificed their lives for the motherland.
Speaking at the event, H.E. Ravinatha Aryasinha, Ambassador and Permanent Representative of Sri Lanka said that during the past year, the new government elected in Sri Lanka under the leadership of President Maithripala Sirisena, has focused on good governance, ethnic harmony and developing relations with the world. The Ambassador called upon the Sri Lankan community living in Geneva to consider ways of contributing to the development of their motherland to build a peaceful and prosperous country. He particularly urged those who are working in the UN related Organizations to further consider how they as well as their organizations could play a catalytic role in furthering unity, development and reconciliation in Sri Lanka.
Traditional Sri Lankan refreshments were served at the end of the event.
Permanent Mission of Sri Lanka
Geneva

9 January 2016