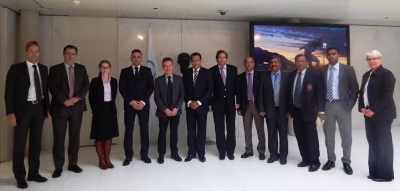 The Minister of Sports Dayasiri Jayasekara has taken steps to amend the sports law and regulations according to the principles of International Olympic charter. He has also taken actions to submit the issues arising in relation to amending the sports law and regulations to the Olympic committee, a release from the Sports Ministry said.
He has also agreed to amend the sports regulations before 31.12.2015 in line with Olympic rules during a discussion at Lausanne on Oct.13. Mr. Pero Miro the Deputy Director General of the International Olympic Committee, Mr. Maxwell de Silva - Secretary to the Sri Lanka Olympic Committee had participated in this discussion. It had also been discussed to hold elections of all sports associations after amending sports regulations.
At a discussion held with President of the International Olympic Committee on Oct.15, it was agreed to provide technical assistance to build a Olympic Museum in Sri Lanka, Minister Dayasiri Jayasekera said. The President also agreed to sort out problems faced by Sri Lankan sports teams taking part in International events, the Minister added.
Matters taken up for discussion were banning of events such as Badminton and Swimming. The Minister has had discussions with the President of the Swimming Association and she has pledged to provide opportunities to Sri Lanka to participate in International events.
Sri Lankan High Commissioner in Geneva , Ravinatha Aryasinha, Maxwell Silva Secretary of Sri Lanka National Olympic Committee, K.D.S.Ruwanchandra Director General of Sports, Saman Ariyasinghe president of the National Sports Museum had participated on this occasion.