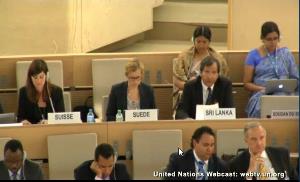 "Sri Lanka in order to prevent all forms of irregular migration, trafficking in persons and smuggling of human beings, is taking action against those traffickers under due processes, while treating the migrants as victims of smugglers". On the issue of migrants in Sri Lanka, "Sri Lanka is aware of the importance of looking at the issues related to irregular migrants into Sri Lanka in a nuanced manner and the need to develop a coherent national policy, as well as the additional capacity and resources required as a developing country, to handle matters related to migrant welfare".
Sri Lanka's Ambassador to the UN in Geneva and Leader of the Sri Lanka Delegation Ravinatha Aryasinha made these observations during an Interactive Dialogue on the opening day (15 June 2015) of the 29th Session of the Human Rights Council in Geneva, following Mr. François Crépeau, the Special Rapporteur on the human rights of migrants presenting his report, pursuant to a visit to Sri Lanka from 19-26 May 2014.
In his report the Special Rapporteur, had noted that during his visit he was able to have access to a variety of interlocutors including civil society organizations, families of migrant workers and returned migrants, and that the Government of Sri Lanka extended full cooperation to the Special Rapporteur "prior to, throughout and after the visit". Ambassador Aryasinha said "the visit contributed to focusing on best practices already in place in Sri Lanka for safeguarding the rights of migrant workers, and also to identify areas which required further attention".
Permanent Mission of Sri Lanka