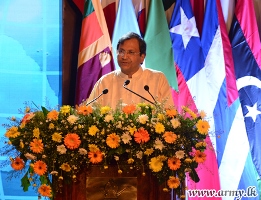 Sri Lanka's Permanent Representative to the UN in Geneva Ravinatha Aryasinha has said, "while we have defeated the LTTE in Sri Lanka, the organization, its ideology and its operations are very much alive in a number of Western countries. Immediately, this remains a challenge to speeding up the pace of reconciliation in Sri Lanka, and eventually, a potent danger to Sri Lanka as a rising nation".


Addressing the session devoted to the global challenges to Sri Lanka as a rising nation at the Army Seminar 2014, he said "besides the socio-economic challenges to Sri Lanka that emanate from the global sphere which has already been exhaustively analyzed in the keynote address, there were three sets of global challenge Sri Lanka would face as a rising nation. First the actions of some states in the international system, second those arising from the actions of sections of the Sri Lankan Tamil Diaspora and third the challenges emanating more specifically from the hardcore LTTE remnants presently spread across various parts of the world".
He observed that even as most countries have acted with understanding and have respectfully shared concerns and been able to contribute to the processes of reconciliation in a tangible manner, unfortunately particularly a few Western countries fuelled by political motivations and electoral compulsions have continued to relentlessly pursue Sri Lanka. As Sri Lanka moved consistent with the recommendations of the LLRC, and has continued to remain fully engaged with all UN agencies including the Human Rights Council and the OHCHR, as well as its global partners international and non-international, these countries have constantly shifted the goal posts on human rights related concerns.
Ambassador Aryasinha said "it has been Sri Lanka's long standing plea that all countries do not provide any political or symbolic support to the abuse of their liberal systems using various pretences by those pursuing separatism in Sri Lanka, that they proscribe all LTTE front organizations and maintain strict vigil over the activities of their operatives, and continue to bring to justice those violating the law".

He observed "that it is noteworthy that even while the political establishments in key Western countries where the Sri Lankan Tamil diaspora provide an important vote base in marginal constituencies have in recent years turned some what of a blind eye to activities of diaspora organizations drawing superficial lines between known LTTE terrorists and Sri Lankan Tamil Diaspora LTTE front organizations and activists engaging in similar activity, it is clear that the law and order and criminal justice systems in these countries however have not been fooled".
He said, "even if one does not necessarily want to help Sri Lanka, it would be in their own enlightened self interest to make a concerted effort to isolate from the rest of the respected Sri Lankan Tamil expatriate community, the LTTE hardcore and pro- LTTE elements who have the propensity to cause harm. Acting on such groups is imperative, because today a threat to another country, would tomorrow be a threat to oneself. And particularly with organizations like the LTTE, which have in the past shown the prowess for catastrophic actions, it is very important that we learn the lessons from history and do not let history repeat itself".
Permanent Mission of Sri Lanka